VIÑA CARMEN PREPARES FOR A GREAT MULTI-SPORT EVENT
16 de August de 2018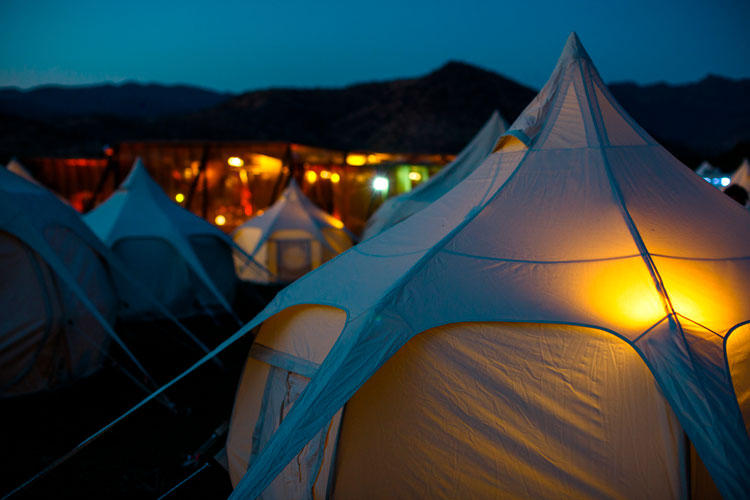 Santiago, August 2018. The multi-sport "Viña Carmen Challenge" will take place October 27–28 and include trail running and orientation on the first day and mountain biking on the second, making this a weekend full of adventures with Viña Carmen's spectacular scenery as the backdrop.
Saturday, October 27
The race begins with Trail Running, set up in 2K, 6K, 12K, and 21K options. The registration fee ranges from CLP$10,000–$20,000 per person and includes a kit bag, competition number, finisher's medal, electronic time chip, and hydration throughout the course.
Trail Orientation also takes place on Saturday in the 2K, 6K, and 12K categories, and registration ranges from CLP $10,000–$20,000 per person.
Sunday, October 28
Sunday's activities begin at 9:30 am and are dedicated to Mountain Biking. Participants can choose from the 2K, 10K, 20K, and 40K categories, and registration fees range from CLP$10,000–$22,000 per person.
Glamping
Those who want a different type of Viña Carmen Challenge can stay at a luxurious camp set amid the vineyards and nature October 26–28 and sleep in tents equipped with beds, comforters, bedwarmers, lighting, bathrooms, hot water, and more.
The two-night plan includes 2 breakfast buffets, 2 dinner buffets, wine, beer, parking, hot-water showers, bedwarmers, lighting, and 2 cell-phone jacks. Prices range from $216,000–$445,000. Spaces are limited.
WHAT ELSE TO DO
Viña Carmen is located in Chile's Metropolitan Region, just 45 minutes from Santiago, and is accessed through Viña Santa Rita (Camino Padre Hurtado 0695, Alto Jahuel), a sister winery from the Santa Rita Estates group that has a heritage complex declared a national historic monument as well as a number of services and wine tourism experiences. There will also be special activities available for all participants of the Viña Carmen Challenge.
Wine Tour: We offer a series of wine tours where visitors learn about the winemaking process and taste some of the best wines in the valley. Runners will receive a 25% discount on any of our tours during the month of November by presenting their race number.
Reservations: reservastour@santarita.cl
Doña Paula Restaurant: The old colonial-style house is part of the historic monument. Inside, colonial-era Cuzqueña-school paintings from Quito and Potosí hang on its white walls. The high ceilings are covered in bamboo, the beams are exposed, the space is decorated with many period pieces, and it is all set amid greenery with a view of the vineyards and a large corridor that leads to the garden in the interior patio. The restaurant offers excellent cuisine and includes both Chilean and international dishes that can be paired with the winery's finest wines.
Reservations: restaurant@santarita.cl
Andean Museum: This modern, 1,500 m2 construction houses a collection of approximately 3,000 archeological and ethnographic items from pre-Colombian peoples along with expressions of cultural mestizaje throughout Chile and the Americas. The items were collected by impresario Ricardo Claro and his wife María Luisa Vial de Claro and made available to the community through the Claro Vial Foundation in 2006. The museum contains one of Chile's most important private collections open to the public. Free admission.
La Panadería Café: The panadería is the old bakery where bread was once made for the Santa Rita Hacienda's workers and their families. Today, the old traditions have returned to life in the Santa Rita Panadería Café, where visitors can take a break and enjoy fresh-brewed coffee, natural juices, or a light meal while sitting among the old ovens and mixers before continuing their visit and enjoying their day at Viña Santa Rita.
Picnic at Santa Rita: Enjoy the Maipo Valley with a gourmet picnic at Viña Santa Rita. Take a basket, blanket, and chairs out for a different experience, ideal for families and groups of friends who want to be in contact with nature and in a unique setting. The basket contains assorted cheeses, sausages, dried fruits and nuts, breads, cocktail crackers, natural chips, gourmet sandwiches, water, fruit, dessert, and Medalla Real wines. Phone: (+56 2) 2 362 2520.
Wine Shop: Visitors can find a large range of excellent still and sparkling wines from Chile and Argentina in the Wine Shop next to the Doña Paula Restaurant. All of the lines and varieties from Santa Rita, Carmen, Terra Andina, and Doña Paula wines are available, along with products derived from grape pomace in our SPA line, specialized accessories for wine service, attractive gourmet products, and a selection of handcrafts made by the local community in Alto Jahuel.