Viña Carmen launches a new magnum format of Carmen Gold in China
14 de October de 2023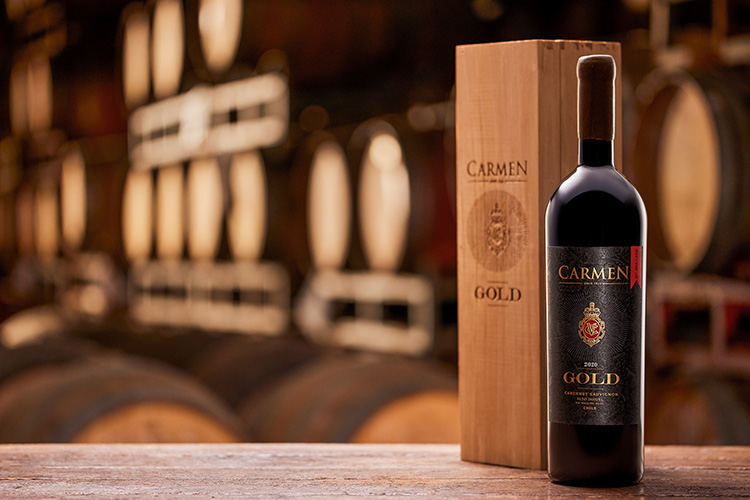 For the first time, the icon of the renowned Chilean winery is presented in this special format, entering the market with a limited number of bottles, making it a collector's gem for wine enthusiasts.
Continuing its philosophy of constant innovation, Carmen, the first winery of Chile, introduces the Carmen Gold 2020 in magnum format. This iconic wine symbolizes the winery's commitment to expressing the unique essence of the Alto Jahuel terroir, renowned as one of the world's standout locations for cultivating Cabernet Sauvignon. It has become a collector's gem for wine enthusiasts and the most discerning connoisseurs.
Since its inaugural vintage in 1993, this wine has been crafted exclusively in exceptional vintages, serving as a testament to Chile's winemaking excellence and an emblem of tradition and quality. The grapes, hand-harvested, come from four plots consistently reflecting the essence of their terroir; originate from the alluvial terraces of Alto Jahuel in the Maipo Valley.
The privileged location of this historic vineyard, planted in 1957, seamlessly combines various factors contributing to the production of a distinguished and elegant Cabernet Sauvignon, including altitude, exposure, soil type, and climate.
After a two-year aging period in French oak barrels, a high-quality and delicate wine was crafted, reflecting the vineyard's oenological expertise in producing wines in Alto Jahuel, combined with the nobility of Cabernet Sauvignon.
As a tribute to this exceptional wine, we have launched this exclusive edition with only 270 bottles available on the market. Each bottle is presented in a special packaging, featuring the unique detail of being sealed with wax and hand-labeled. The unique production number on each label adds an extra touch of exclusivity to this magnum edition, housed in an individual wooden case, creating a truly memorable wine-tasting experience.