Viña Carmen lands in Venezuela with Alimentos Baguales
27 de June de 2022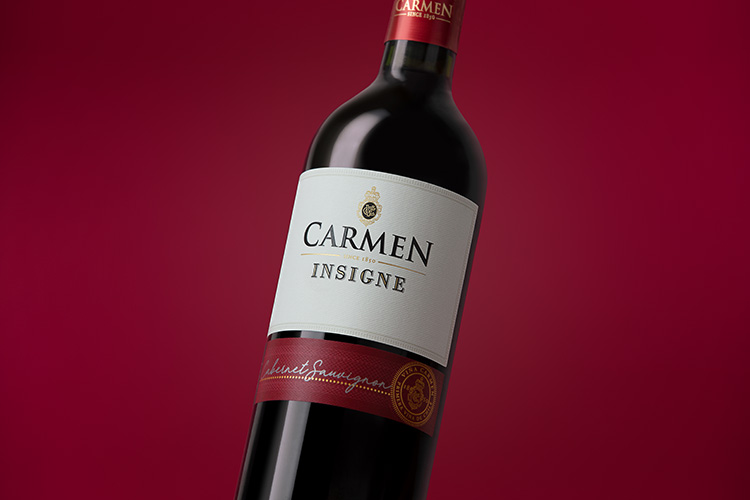 The Chilean Winery will launch the Insigne brand in the Venezuelan market, through its varieties Cabernet Sauvignon and Merlot.
Viña Carmen, the first winery in Chile, announces its comeback to Venezuela through Alimentos Banguales, which offers a wide portfolio of the highest quality wines throughout the country. For this, it will be launched the Insigne brand through its Cabernet Sauvignon and Merlot varieties, with which it seeks to highlight and pay tribute to the most representative strains in Chile.
Its young and modern-style wines, characterize this line, led by winemaker Emily Faulconer. It has a great fruit intensity and lightness, and highlights the most valuable attraction of Chile: the beauty of its valleys and the richness of its fruits. The grapes that give rise to Carmen Insigne grow at the rhythm of the nature and fully ripen, expressing the liveliness, harmony and purity that makes unique each variety.
From Central Valley, Insigne Cabernet Sauvignon is a fresh wine, with great structure and volume, very fruity, complex and intense, given by the combination of different fruits that remind us of fresh cherries and blackberries, along with soft touches of toffee and caramel, which are contributed by passing through French and American oak wood. It is perfect to accompany all kinds of pasta and red meats. It is recommended to serve between 16 and 18°C.
Insigne Merlot, also from the Central Valley, has a great intensity and depth, where its silky tannins stands out, resulting in a wine with a great finale, fruity and intense. It has notes of black fruits, such as plums and currants, along with delicate spicy touches of caramel and vanilla, which are provided by the passage of the wine over French and American oak. It is ideal to accompany fresh pasta, fatty fish such as salmon, well-seasoned white meats and lean red meats. It is suggested to serve between 16 and 18°C.
About Viña Carmen
Viña Carmen was founded in 1850, making it Chile's first and oldest winery. Since then, great milestones and successes have marked its history, obtained by its experience, oenological heritage and its unattainable quest for quality and excellence. In 1994, the winery witnessed an oenological event of great relevance worldwide: the rediscovery of Carmenere in Carmen's vineyards, in Maipo Valley, by de French ampelographer Jean Michel Boursiquot. This great historical fact returned to the world wine heritage a strain that was thought to be extinct for more than a century.
Currently, the winery is in 50 countries, being the most experienced winery in Chile. In its more than 170 years of history, its creative and avant-garde character has characterized it. It is a timeless, daring, innovative brand that has constantly searched new ways of doing things and that has been marked by the consistency in the quality of its wines, which has led it to be awarded "Winery of the Year" by que renowned American magazine Wine & Spirits. The outstanding South American wine guide Descorchados also named it "Wine Cellar Revelation" in 2018, which is led by specialized journalist Patricio Tapia.