Viña Carmen celebrated in Brazil a new anniversary of the rediscovery of Carménère
29 de December de 2016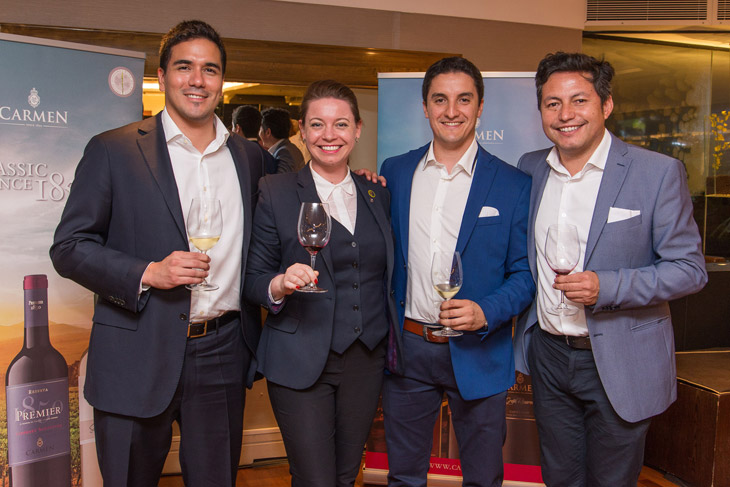 Clients and press attended exclusive events organized together with Mistral, Carmen's importer in Brazil, where they tasted all the Carménère's of the winery.
It's been 22 years since French ampelographer Jean Michel Boursiquot, visiting Carmen's vineyards in the Maipo valley, identified as Carménère what was thought to be Merlot. This moment became a key milestone for Chilean winemaking, when rediscovering an old Bordeaux strain that was considered practically extinct in the world.
To commemorate this historic event, Viña Carmen held for the first time a series of successful events in Sao Paulo, Brazil, celebrating together with clients, press and members of the trade, with the best Carménère of its portfolio.
Winemaker Adolfo Bravo from Viña Carmen led a dinner at the exclusive Tivoli Mofarrej Hotel, which was held together with the Mistral team, which imports Carmen wines in Brazil. More than 50 guests, mainly customers of the most renowned restaurants and shops in Sao Paulo, along with specialized press, enjoyed a paired menu and were able to learn more about the history of the first Chilean winery through six exponents of the variety: IIII Lustros 2012, Winemaker's Reserve Carménère Blend 2009, Gran Reserva Carménère 2013, Premier 1850 Carménère 2015 and Insigne Carménère 2015.
Wine tastings were also held at the Wine House Baby Beef, Ca'D'Oro and Le Manjue Organique restaurants, events attended by owners of restaurants and shops, bloggers and journalists from the wine and gastronomy world, as well as sommeliers and representatives of industry.
In parallel, Mistral's corporate sales force participated in training on Carménère made by winemaker Adolfo Bravo, with the aim of delivering a better service to customers.
The activities, fundamental to strengthen the presence of Viña Carmen in the competitive Brazilian market, were widely valued by the attendees, providing the opportunity to continue developing them during the next years.