DOUBLE GOLD MEDAL FOR CARMEN VINTAGES BLEND II IN SAKURA JAPAN WOMEN'S WINE AWARDS 2020
24 de February de 2020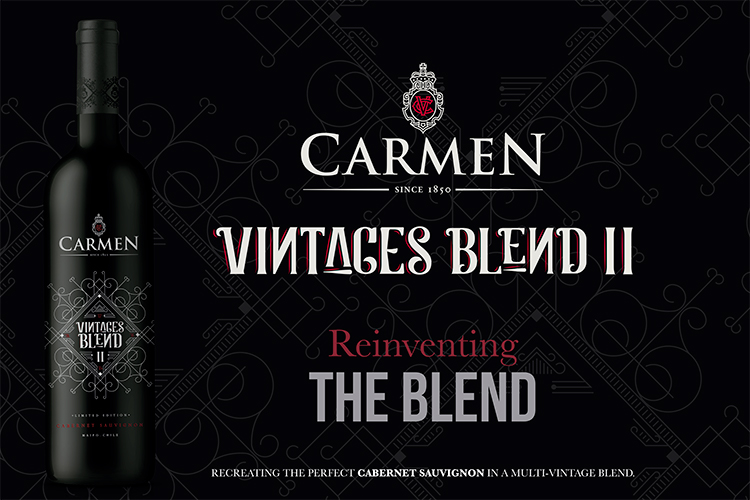 The seventh version of the Japanese contest saw the latest release from Carmen, Vintages Blend II, obtain the coveted Double Gold Medal.
February 2020.  Viña Carmen achieved excellent results in the seventh edition of the Sakura Japan Women's Wine Awards, wining a double gold medal for Carmen Vintages Blend II.
The wine, which was released on 2019, is the second edition of the project "Vintages Blend", an innovative wine that highlights the core value of Carmen: reinvention. We combined the best vintages of Carmen Cabernet's from Maipo Valley in a single wine, reinventing the traditional Chilean blend into a unique wine that highlights the best expressions from our latest vintages.
Our Vintages Blend II is deep and intense ruby red in color. The nose presents aromas of black currants, blackberries and liquorice with smooth, elegant cedar notes. The palate is very rich and generous yet fresh and vibrant at the same time. The wine has abundant fruit and firm tannins that lend structure and depth.
In addition, Carmen DO Quijada Semillón 2017 was also selected by the judges as one of the top wines, receiving a Silver Medal. The DO range works with small grape producers with old vineyards planted across Chile, rescuing the traditions in viticulture through wines that have little intervention in the winery.
The Sakura Japan Women's Wine Awards is the first international wine competition from Japan judged only by women. In the 2020 version, 560 female tasted 4,333 wines from 29 countries.