Carmen Gold 2021 highlights with 98 points in the Marcelo Copello´s report
6 de September de 2023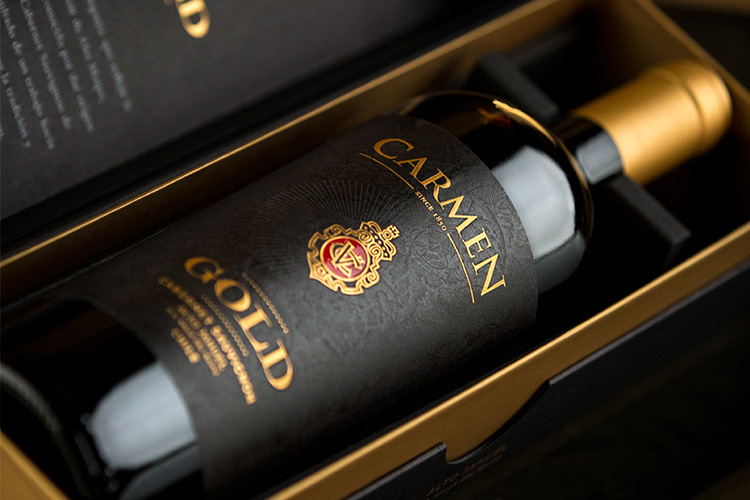 During his visit to Viña Carmen in July, the Brazilian wine journalist specialized in wines rated the best labels of the winery with exceptional scores.
In his latest report, the renowned Brazilian wine critic, Marcelo Copello, highlighted a total of eight wines from Viña Carmen with over 91 points. Carmen Gold 2021 icon wine of the winery, stood out among the rest with a score of 98 points for its exceptional quality and distinctive character.
During his visit to the winery in July, he also tasted the Ultra Premium labels from Chile's first winery, which received renowned appraisals. Copello's scores reflect Carmen's winemaking expertise and the passion that Carmen invests in each bottle.
Carmen Gold 2021 is a classic and elegant wine that reflects the essence of the Alto Maipo terroir, globally recognized for producing Chile's finest Cabernet Sauvignon. The Brazilian journalist described it as "a complete wine with great aging potential. It has an elegant aroma with fresh fruit initially and then opening up in complexity, showcasing fine wood toasting, spices, balsamic notes, and minerals. It has a structured, fresh, deep palate with layers of flavor."
Following the icon wine, Carmen D.O Florillón #5 received 96 points and highlights for its "elegance, delicacy, and delicious flavor." Produced in the Colchagua Valley, this white wine demonstrates great character and complexity with citrus aromas and a "light, smooth, and dry" palate, according to Copello.
The Carmen Brut Nature sparkling wine and the reds Carmen Delanz Alto Jahuel 2021, along with Carmen D.O Matorral Chileno 2022, received notable ratings of 94 points. Meanwhile, Carmen Delanz Apalta 2021 and Carmen D.O Quijada Semillón 2019 achieved a score of 93 points.
On the other hand, Carmen D.O Loma Seca Cinsault 2022 obtained 91 points.