Carmen Gold 2018 achieves historic 99 points in Descorchados and is awarded Best Red in Chile
24 de September de 2020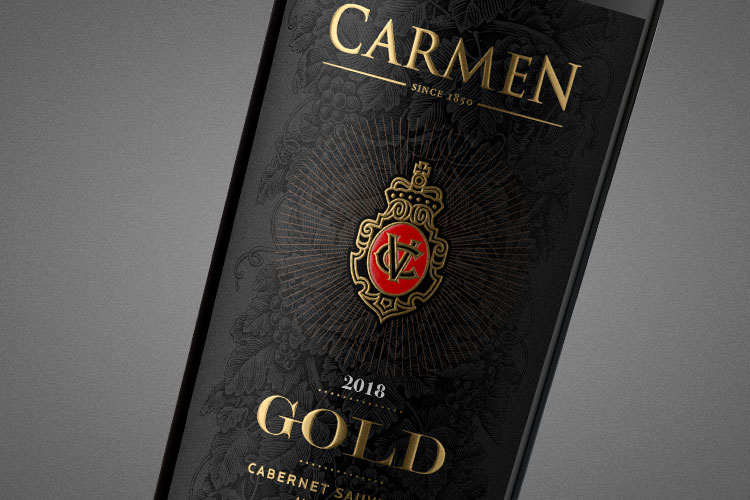 This is the first time journalist Patricio Tapia has presented a score of 99 to a Chilean wine, positioning the superb terroir of Alto Jahuel among Chile's best.
Santiago, September 2020.- An unprecedented event occurred in the latest version of Descorchados, the leading Chilean wine guide, which features Carmen, Chile's first winery, and Viñedo Chadwick. The author Patricio Tapia, awarded 99 points to Carmen Gold 2018 and Viñedo Chadwick 2018, being the highest score that the specialized journalist has given to a Chilean wine, in the more than 20 years of history of this publication .
The recognition obtained by the icon wine from Viña Carmen, was coupled with the distinctions "Top Ten Red Wines 2021", "Best Red" (shared), "Best Cabernet Sauvignon" (shared) and "Best Maipo Andes" (shared). This great classic Cabernet Sauvignon from Alto Maipo –the first vintage dates from 1993– is the result of years of experience, which reflects all the knowledge and specialization of this variety in Alto Jahuel. "Carmen Gold 2018 is a perfect combination between a careful selection of the best expression of Carmen's plots in Alto Jahuel and the great harvest conditions, resulting in an elegant and delicate wine", comments Emily Faulconer, Chief Winemaker of Viña Carmen.
She adds "it gives us tremendous pride that Carmen Gold 2018 has been recognized as the Best Red of the year and has reached these historic 99 points in Descorchados. This is great news for Chilean wine, especially for Alto Jahuel and Cabernet Sauvignon, since this recognition supports the potential of this place to achieve exceptional wines; a great boost for all of us who work in this particular sector of Alto Maipo".
Patricio Tapia commented on the wine: "Carmen Gold 1993 was one of the first Chilean icons I tried. And, although that was more than a quarter of a century ago, the strong, super concentrated style of its first vintages remained in my memory. The oenologist Emily Faulconer, however, has taken it another way, a much more subtle one, even delicate. Take as an example the new 2018 vintage, which, for us at Descorchados, is the best we have ever tasted. And we have been lucky enough to try them all".
Descorchados, whose first publication was released in 1999 in Chile, today is positioned as one of the most important wine guides and a reference not only at the national level, but also in other countries in South America. The publication has expanded to cover the wines from Argentina, Brazil and Uruguay; being these four key markets in the production of wine in this corner of the world.
Other of the outstanding wines in Descorchados 2021, was Carmen Delanz Alto Jahuel 2019 with 96 points, being included in the ranking "Best Red Blends", as well as Carmen DO Quijada 2019 that obtained 95 points and was highlighted in the rankings "Best Semillón" and "Best Apalta".
In the Carmen Gran Reserva range, the 2020 Sauvignon Blanc was awarded 92 points, as did the 2020 Chardonnay. On the other hand, Syrah 2019, Cabernet Sauvignon 2019, Petite Sirah 2019 and Carignan 2019 received 90 points.