CARMEN FRIDA KAHLO SINGLE VINEYARD CS 2017 AMONG WINE ENTHUSIAST'S TOP 100 WINES OF THE YEAR
19 de November de 2019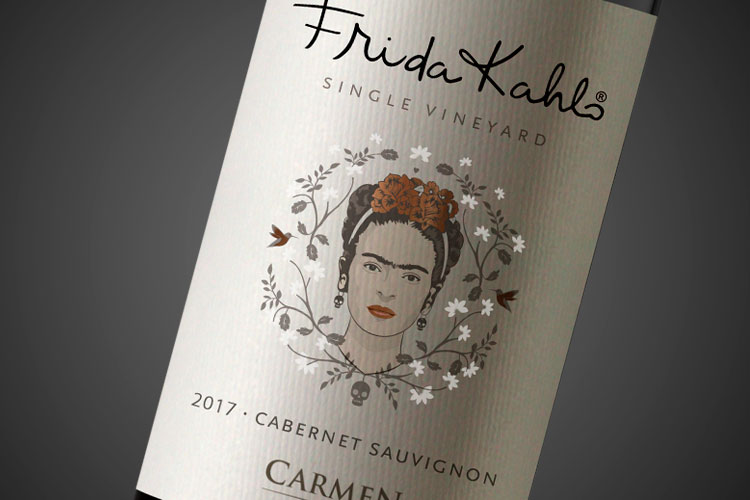 Following its presentation in the American market in early 2019, Carmen Frida Kahlo Single Vineyard Cabernet Sauvignon 2017, was selected by Wine Enthusiast as one of its Top 100 Wines of the Year. The list, that gathers the most relevant wines of 2019, will be published in full in the December edition of the magazine.
This recognition follows the accolade received in July of this year, when Wine Enthusiast awarded it 90 points and named it Editor's Choice. Michael Schachner, Spanish and South American Editor for the magazine, commented on the wine: "Beyond the cool concept label, there's a serious Cabernet Sauvignon in the bottle—one with steady aromas of cola and root beer along with berries and light oak. A flush palate deals a full fan of berry flavors, while rubbing tannins give grip to an otherwise easy finish. Drink through 2024".
Carmen was inspired by Frida's passion, sophistication, elegance and attitude to create a new style of wine: Carmen Frida Kahlo Single Vineyard, a true reinvented classic. Frida Kahlo is a woman who passionately embraced the adversities of life and found in her reality an opportunity to reinvent herself. Her iconic identity and extraordinary artwork left behind a legacy that transcends and overcomes barriers of culture, while inspiring her to constantly transform tradition into reinvention. Carmen is the first and most historic Chilean winery, a timeless classic, just like Frida. Both seek to expand their positive impact as female role models that are classic and current at the same time.
This 100% Cabernet Sauvignon, sourced from Alto Maipo's vineyards, is deep and intense ruby-red in color. The nose presents aromas of black currants, blackberries, and licorice with smooth, elegant cedar notes. The palate is very rich and generous yet fresh and vibrant at the same time. The wine has abundant fruit and firm tannins that lend structure and depth.