VIÑA CARMEN PARTNERS WITH FRIDA KAHLO FOUNDATION AND LAUNCHES A LIMITED EDITION WINE
4 de July de 2018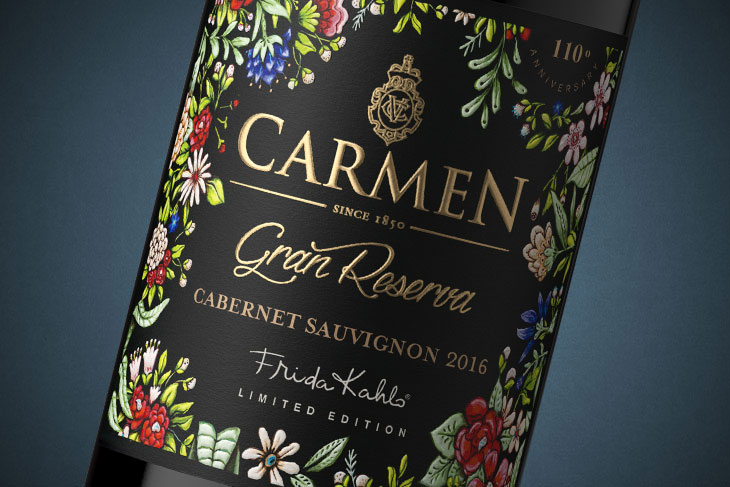 Santiago, June 2018. Viña Carmen, Chile's first winery, and Frida Kahlo Foundation reached an agreement to produce a limited edition wine, which is part of the celebration of the anniversary of the Mexican artist and female icon that during 2017 celebrated 110 years of history.
Viña Carmen, in line with its global campaign "Reinvents the Classics", launches Carmen Gran Reserva Frida Kahlo Cabernet Sauvignon, a wine from the Maipo Alto Valley, which represents the maximum expression of this variety, with selected handpicked grapes from our vineyards.
"The alliance responds to the essence of the Carmen brand: its femininity and passion. There is no better opportunity than partnering Carmen with a true modern classic icon such as Frida Kahlo, an influential historical reference who has transformed tradition into something new overtime and constantly exceeds established mores", said Jaime de la Barra, Corporate Marketing Director from Santa Rita Estates that gathers the vineyards Carmen, Santa Rita, Sur Andino and Doña Paula.
This wine made by Emily Faulconer, Chief Winemaker of Carmen, will be present in various markets such as North America, Asia and Europe.
Like Frida Kahlo, Viña Carmen, founded in 1850, remains modern through a unique and universal appeal that has been attracting new generations for decades.