VIÑA CARMEN OBTAINS 12 SCORES OVER 90 POINTS IN DESCORCHADOS 2019
7 de November de 2018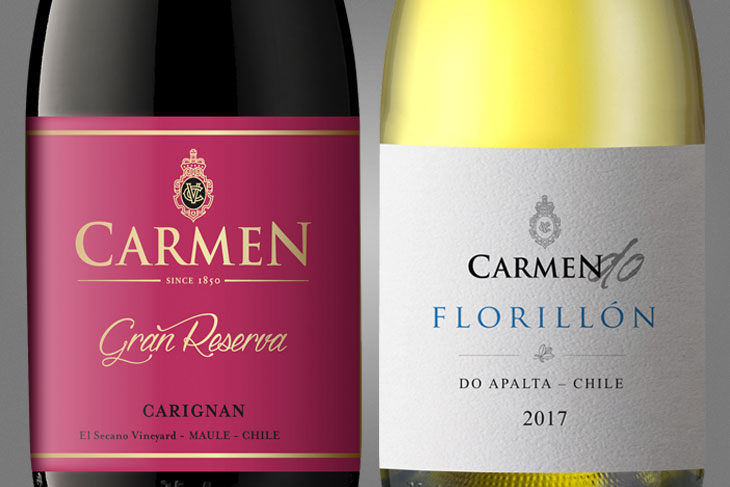 Santiago, november 2018. The prestigious Wine guide Descorchados, created by specialised journalist Patricio Tapia, recognised Carmen with excellent scores in its 2019 edition.
The winery's icon Wine, Carmen Gold Reserve 2015, obtained the highest recognition, with 97 points, and was included in the rankings "Best Reds", "Best Cabernet Sauvignon" and "Best Alto Maipo".
"The historical vineyard of this Gold Reserve, which's first vintage was 1993, is Carneros 288, a plot planted in 1957 in Alto Jahuel. But with the years, those vines have been affected by different diseases, lowering its yields. The situation reached its peak in 2015, so winemaker Emily Faulconer decided to source grapes from another plot in the estate, much younger, planted in 2002 with masal material from the historical vineyards of Carmen in Alto Jahuel", commets Tapia.
And adds, "According to Faulconer, this vineyards of alluvial soils brings round tannins and acidity. This year, in addition, only second and third use barrels have been used (for the first time in its history), which has allowed for the fruit to take the leading role, presented here very fresh, in a Gold that feels medium bodied, something completely unusual in this always robust red. An important change that adapts to the current times".
On the other hand, Carmen DO Matorral Chileno 2018 was chosen as "The Best in Melozal" with 95 points. Carmen DO Florillón 2017 and Carmen Gran Reserva Carignan 2017, were selected as "Revelation" wines, with 93 points each, same score that Carmen DO #1 Semillón 2017 received.
92 points received Winemaker's Red 2016, Winemaker's Black 2016, Carmen DO Loma Seca 2018 and Carmen Gran Reserva Sauvignon Blanc 2018.
Lastly, Carmen Gran Reserva Cabernet Sauvignon 2017 and Carmen Gran Reserva Frida Kahlo Carmenere 2017 received 91 points, while Carmen Gran Reserva Chardonnay 2017 obtained 90 points.