Viña Carmen launches exclusive Frida Kahlo range in Chile, México and Brazil
20 de October de 2022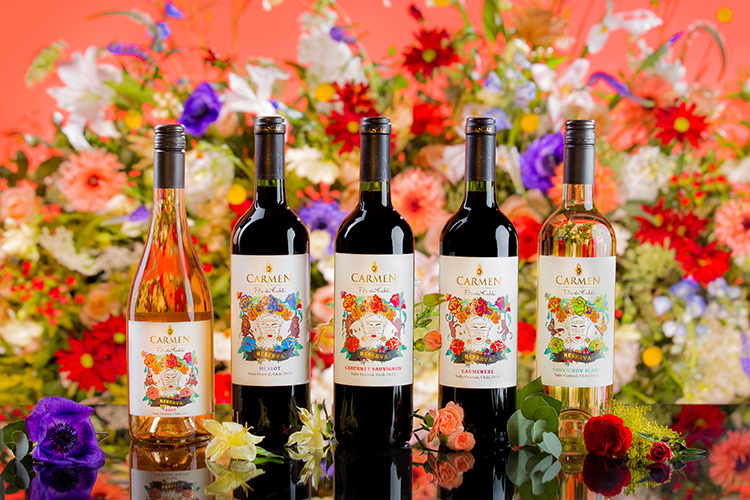 Carmenere, Cabernet Sauvignon, Merlot, Sauvignon Blanc and Rosé make up the unique wine collection in homage to Frida Kahlo, one of the most iconic artists worldwide.
Four years ago, Viña Carmen, the first winery in Chile, and the Frida Kahlo Corporation reached an agreement to produce a limited edition wine: Carmen Gran Reserva Frida Kahlo, which is currently positioned as the best-selling super-fine product from the winery in Chile.
Later, Carmen Cuvee Brut and Extra Brut sparkling wines were added with labels inspired by the Mexican artist and today, this alliance continues to expand thanks to the new launch of the Reserva range in Chile, Mexico and Brazil, which includes: Carmenere, Cabernet Sauvignon, Merlot , Sauvignon Blanc and Rosé. The new varieties are inspired by famous phrases and the best qualities of this iconic painter, the same ones that were translated into an oenological language to produce these refreshing, surprising, daring and inspiring wines.
"An innovative, creative and avant-garde character has characterized Viña Carmen in its 170 years of history. This new Reserva range responds to our union with a true classic icon, but at the same time valid as Frida Kahlo. A historical and influential reference that managed to transform tradition and with whom we share the honor of being a timeless classic, which reinvents itself and remains alive over time, with whom we seek to continue bringing our consumers closer through products that we are sure will will surprise you", highlighted Francisca Muñiz, Viña Carmen Corporate Marketing Manager.
In addition to having the most representative strains of Chile and the most recognized valleys, the wines have colorful labels that allude to the cheerful and flowery painting of this renowned artist who has become the most Googled artist in the world.