Viña Carmen 'Chasing Stars' with Dublin chef Damien Grey of Liath restaurant
25 de November de 2019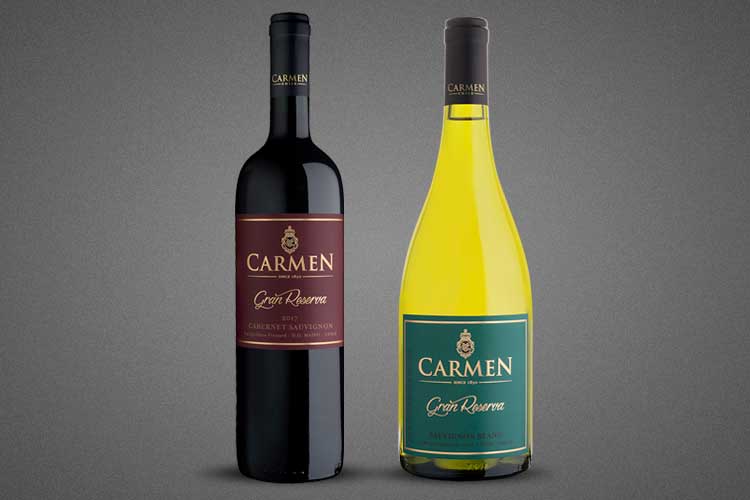 Dublin, November 2019.  The documentary opens on January 26th, 2019 the day that Damien and Andrew (Heron) close the doors on Heron and Grey for the final time. Following a full refurbishment of the space on March 15th head chef and proprietor Damian Grey (45) opens his restaurant named "Liath" (Irish for Grey).  'Chasing Stars'   documents Damien's journey through his food and his food influences, what it takes to make that step up to becoming a Michelin starred restaurant once again and how that differs from how he has previously done things.  It shows the challenges that face him, his team, his suppliers and his menus all to ensure the future of his restaurant by being awarded a Michelin Star again.
Terry Pennington, Commercial Director Europe commented on the sponsorship:
'To achieve a Michelin star is a great achievement, to lose it through the dissolution of one business and then try to regain it again within 6 months with another restaurant is exceptional. Like our Carmen brand, Liath 'Re-invents the Classics', taking the best and putting an innovative spin on it in the pursuit of food excellence in the case of Liath and wine for Viña Carmen. I wish every success to the new venture.'
To experience the 'Re-invention of the Classics' from the Carmen portfolio, may we suggest you might like to try the following wines both of which are available in leading Dublin restaurants and independent wine merchants
Carmen Gran Reserva Sauvignon Blanc 2017
This wine is sourced from the Pacifico Vineyard, our coolest vineyard in Leyda with the vines grown on a unique structure of decomposed granite and with a little clay which results in an exceptionally elegant wine. The nose is complex with passionfruit and lime notes opening to layers of riper tropical fruit on the palate with great acidity on the finish. RRP €20.00
Carmen Gran Reserva Cabernet Sauvignon 2017
Awarded a Platinum Medal and 97 points in the 2019 Decanter World Wine Awards this wine truly captures the very essence of exceptional Cabernet from the world renowned Maipo Valley. Sourced from the best alluvial terraces in Alto Maipo Region by the Andes Mountains, this 100% Cabernet Sauvignon is a deep and intense ruby-red colour. The nose presents aromas of black currants, blackberries, and licorice with smooth, elegant cedar notes. The palate is very rich and generous yet fresh and vibrant at the same time. The wine has abundant fruit and firm tannins that lend structure and depth. RRP €20.00
For further information on Carmen wines please contact:
Caroline Park PR +44 7793 367501
caroline@cmpark.co.uk
@SantaRitaEst on Twitter
For further information, imagery or to speak with Damien Grey of Liath please contact Ann-Marie Sheehan, Aspire PR & Marketing, T : 087 298 5569 E : annmarie@aspire-pr.com
@ChasingStarsRTE instagram and Twitter
#ChasingStars
@liathrestaurant instagram and Twitter
Editor's Notes: 
About Carmen Wines
Founded in 1850, Carmen is the oldest winery in Chile
Founder Christian Lanz named the winery after his beloved wife, Carmen
The Carmenère grape variety was rediscovered in 1994 at one of the Carmen's vineyards in the Alto Maipo Valley
Carmen became the driving force behind the development of Carmenère in Chile and launched its first varietally labelled bottle, blended with Cabernet Sauvignon, in 1996.
Tiers within the range include Tolten, Classic, Premier 1850, Wave Series by Carmen, Gran Reserva, D.O., Winemakers Reserve, the top wine is Gold Reserve
The Carmen winemaker is Emily Faulconer
The Carmen D.O. Mattoral wine was named red wine 'Discovery of the Year 2017' in the annual Tim Atkin MW Chilean Wine Guide
The Carmen D.O. Florilló was awarded white wine 'Discovery of the Year 2019' in the annual Tim AtkinMW Chilean wine guide and voted one of South America's next icon wines by Decanter Magazine in 2019
Santa Rita Estates added Viña Carmen to their portfolio in 1987
Carmen is distributed by:
UK  – Santa Rita Estates
ROI & NI – United Wines
Who is Damien Grey:
Originating from Bowral, N.S.W, Australia, Damien (45), started his career by working in a butchers shop at weekends, aged ten and then a fruit and veg shop from 14, becoming a kitchen porter a year later and working in the industry ever since.
Damien's training has been heavily focused towards the French cuisine for nearly 17 years, Greek cuisine and being from Australia he is heavily influenced by south east asia and Italian cuisines.
He trained in Sydney under Steven Stavouris, in a family run Greek restaurant, where he learnt everything about Greek cuisine, on completing his apprenticeship he went to work in a 1 hat restaurant called Darling Mills on Glebe Point Road for two years. When it closed her moved to  Matt Moran's for a year and then made the decision to move to Europe and did two years in London at the Admiralty by Oliver Pleyton.
Moving to Scotland for two years in Glasgow working the scene Damien finally moved to Ireland in 2001 and did the full tour of Michelin kitchens over several years in Dublin.
Damien is married to Claudine (from Dublin), with two daughters Isabella & Michaela living in Dublin.
Now focusing on the Spanish, West coast of America and Nordic movement. these styles are very intone with the terroir of Ireland and they are breaking ground in the development of commercial cooking in the 21st century. He creates dishes based on a particular cuisine or movement but with focus on the seasons and local ingredients, using his research he attempts to create that one dish that will become a modern day classic. But that doesn't mean he will stick to just one cuisine, as he feels life is to short and he loves cooking with everything.
Damien says of the future "What is the future for me, I don't know, but the one thing for sure is I'm having a very creative burst in my life at the moment and its showing no sign have slowing down. I have been given a real chance in life by getting this space, I am happy to spend the next ten years or so grafting away at my profession."
What is Liath? 
Liath (Le-ah), which is the Irish translation for Grey, tells a story of the next chapter of Heron and Grey and the connection that Damien Grey has with Ireland. Heron and Grey had become such a well established brand in this industry that a direct connection from one business to the next was essential. It now places itself perfectly amongst its direct competitors such as Aimsir, Loam and Aniar all of which help deliver a similar message. A message that ties the product to the chef, his surroundings and his customer.
Liath delivers a high quality product, focused on genuine hospitality with an informal service that had been the core of Heron and Grey restaurant. The product and this delivery has already proven itself and will continue to use the research that was obtained, implemented and tested throughout the lifecycle of Heron and Grey.