EMILY FAULCONER, LEADING CARMEN INTO THE FUTURE
9 de October de 2019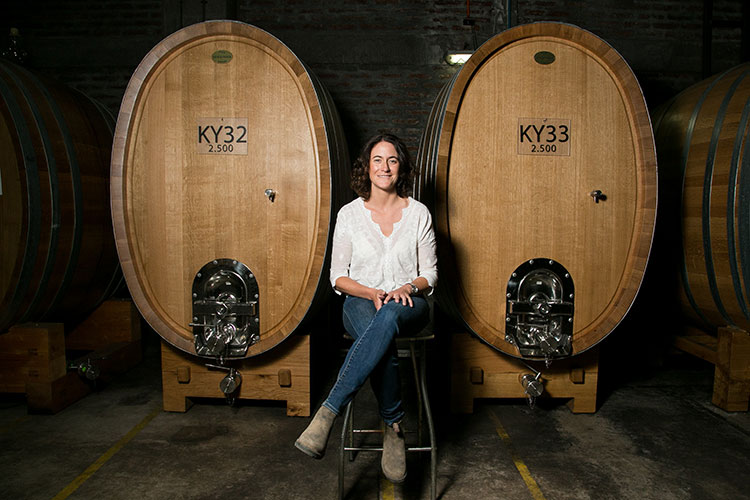 She is also responsible for the continuation and strengthening of internationally acclaimed innovative projects that Carmen has launched recently, which have led it to position itself as one of the most innovative wineries in the country, commended both national and internationally.
Her latest Carmen Gran Reserva Cabernet Sauvignon 2017 from the Alto Maipo Valley was recently awarded 97 points at the Decanter World Wine Awards.
"As winemakers, we interpret the character of places. I believe in a respectful management of the vineyard and low intervention winemaking. In terms of styles I always try to think about who is going to actually, drink the wine", says Emily Faulconer (34), Carmen's Chief Winemaker since mid-2017.
After two years leading Chile's first winery, Faulconer claims to be very comfortable in Carmen, having had all the opportunities to develop her vision and growing professionally, since Carmen is a company that understands the benefits of having complimentary teams that bring diverse visions. "It is an honor to be part of a winery named as a woman and that has over 160 years of trajectory marked by great milestones and successes obtained from its experience, enological heritage and tireless search for quality and excellency", she details, adding "It also has a unique style, contemporary and universal, which keeps captivating new generations".
She has been concentrated mainly in the range of wines Gran Reserva, Carmen DO, Winemakers and Gold among others, that have given Carmen such prestige, focusing on making wines with their own identity and rescuing the value of the terroir they come from. "We have been studying and selecting the grapes of the different terroirs looking for the best expression of each of the varieties. This had included the selection of terroirs, soils and the best fruit at harvest time", Emily comments.
As a matter of fact, the most recent edition of the prestigious Decanter World Wine Awards featured Carmen Gran Reserva Cabernet Sauvignon 2017 among the most relevant Chilean wines of the competition, receiving outstanding 97 points and a coveted Platinum Medal.
The review read: "Engaging Cabernet scent with earthy bell pepper as well as red and black berries. It's the palate where it really sings – fine, firm, filigree, linear and cultured. Cries out for a plate of food. Proper Cabernet with insistence and complexity but also not overworked. Hallelujah!".
In December 2017, Faulconer was chosen among the 100 young leaders of Chile by "Revista Sábado" of El Mercurio, considered one of the most important newspapers in Chile. This recognition, which has been given during 17 years by the Chilean media and the Universidad Adolfo Ibáñez, highlights people who have influenced their environment with a common idea: improve Chile. "She has made an ascendant career in the wine world in Chile and today is dedicated to the Premium range, focusing on making them with their own identity and rescuing the value of the terroir they come from," says the publication about Emily Faulconer.
On the other hand, the October 2018 edition of british magazine Decanter, included Emily among the top winemakers of South America, in Tim Atkin's MW article "Rising stars: Winemakers to watch in Chile and Argentina". The critic reviews "She's only 33, but Emily Faulconer had already managed to work at several of Chile's best wineries, including Maquis and Viñedos de Alcohuaz, as well as overseas at Cakebread Cellars in California, Trinity Hill in New Zealand and Château Canon in Bordeaux before taking up her position as chief winemaker at Viña Carmen last year. She lists running as one of her hobbies and is on a fast track through her native industry, 'burning the candle at both ends', as she puts it in perfect English, to achieve her goals". He adds, "So far, she's only blended and aged wines made by her equally talented predecessor at Carmen, Sebastián Labbé, but she's already making her influence felt, reducing the time in oak for the icon Cabernet Sauvignon, Gold Reserve. She has exciting plans for the 2018 vintage too".
CAREER
Emily Faulconer studied Agricultural Engineering at the Universidad Católica de Chile. Her passion for what she does led her, among other things, to live for a year and a half in the Elqui Valley, leading the planning, operation and execution of the viticulture and oenological work of Viñedos Alcohuaz. She has also worked in wineries in the United States (Cakebread Cellars), New Zealand (Trinity Hill Winery) and France (Chateau Canon).
Faulconer also previously worked as Chief Winemaker in Viña Arboleda, leading the viticulture and winemaking areas, focusing on the production of fine wines with a sense of origin. Prior to this, she worked as assistant winemaker in Maquis and Viu Manent, both located in the Colchagua Valley.