Discover Vintages Series, the blend from Viña Carmen that launches a new name and image
13 de August de 2023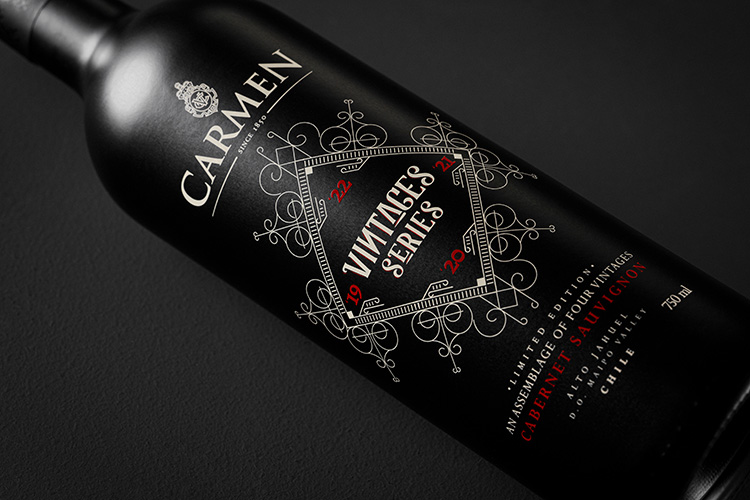 Crafted from different vintages of Cabernet Sauvignon, this wine refreshes its packaging to enhance the brand concept and provide a unique experience to consumers through its design.
The fifth edition of the exclusive Vintages Blend, made from different vintages of Cabernet Sauvignon, arrives in the market with a new image and label called Vintages Series. In honor of the innovation that brings together in a single wine the emblem of the flavor and quality of the Chilean valleys, it renews its packaging to improve the understanding of the brand concept and provide a unique experience to its consumers from its design.
Made in Alto Jahuel, this masterpiece is the result of a careful selection of grapes that fuses the best vintages of a grape variety. Each bottle is made after a meticulous winemaking process and an unwavering passion to create a red wine that awakens the senses and delights the palate of wine lovers.
"Vintages Series is a powerful, structured wine with a deep, intense violet color. The nose presents aromas of black currants, blackberries and licorice. The palate is very rich and generous, which is supported by firm tannins that give it depth," said Pablo Prieto, Viña Carmen's winemaker.
The new appearance of this blend simplifies the design around its name to highlight the wine's elegance and sophistication, improving the readability of its title and vintages. It also includes an explanatory description of its characteristics, highlights the name of its variety in red letters, eliminates the edition number "V", and incorporates "Alto Jahuel" in order to enhance its origin.
Also, its limited character has been eliminated, as it is now a permanent wine and the purest reflection of the winery's potential.
This change in the label is not only aesthetic, but also symbolizes Viña Carmen's dedication to simplify and convey more clearly the message of excellence that characterizes the Cabernet Sauvignon mixture, highlighting the distinction and prestige that surrounds Vintages Series.
An exceptional terroir
The grapes savored in the Vintages Series were hand-harvested from vineyards located on the best alluvial terraces of Alto Maipo, Chile, in the piedmont of the Andes Mountains, an area well suited for Cabernet Sauvignon due to its semi-arid Mediterranean climate. Oscillating thermally in the 20°C, the unique configuration of the mountains surrounding the growing area delays the temperature drop at sunset, resulting in riper, sweeter grapes with soft, round tannins.
The total wine is composed of the 2019, 2020, 2021 and 2022 vintages. Also, it was aged in French oak barrels to provide it with great complexity.
About Viña Carmen
Founded in 1850, Viña Carmen is one of Chile's oldest and most renowned wineries. With a rich heritage and an unwavering dedication to quality, it has been a pioneer in the production of world-class wines. It combines tradition and experience through modern techniques to create exceptional bottles that reflect the authentic character of the region's terroirs.