DESAFÍO VIÑA CARMEN: THE SPORTS EVENT OF TRAILRUNNING AND MOUNTAINBIKE IN VINEYARDS
30 de September de 2019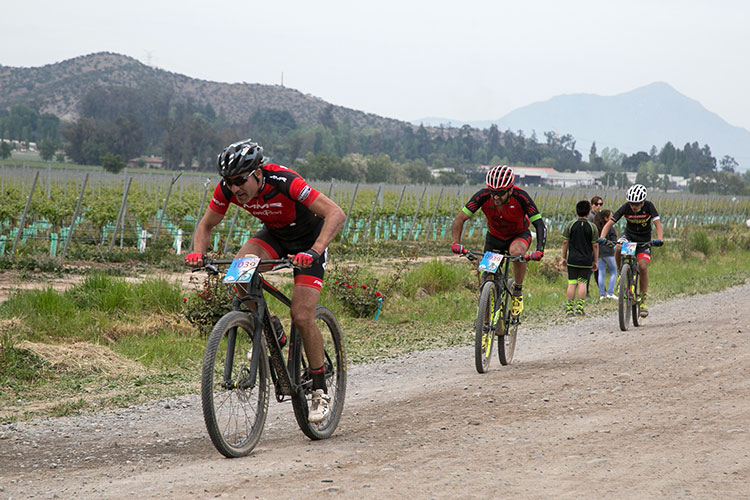 October 19 and 20, will be dedicated to adventure with trailrunning and mountainbike races, which will take place on the vineyards of Viña Carmen, located just 45 minutes from Santiago.
Santiago, September 2019.- A new version of the "Viña Carmen Challenge" will take place in a few days. With a spectacular landscape that features the vineyards of the Maipo Valley and only 45 minutes from Santiago, this October 19 and 20 will be dedicated to adventure with races in the mountains of trailrunning and mountainbike on the grounds of Viña Carmen.
Saturday October 19
Saturday will be mountain trekking day, better known as trailrunning. During the day, there will be circuits of 2, 6, 12 and 21 kilometers, starting at 9:30 (for 21k) until 10:30 (for 2k).
Enrollment values ​​- which includes kit bag, competition number, medal for challenge completed, electronic time chip, hydration during the race and a shirt – go from CLP $ 10,000 to CLP $ 20,000 per person.
Sunday October 20
Now is the turn of the mountainbike. For this competition, there will also be different circuits, of 2, 10, 20 and 40 kilometers, starting the day at 9:30 (for 40k) until 11:00 (for 2k). Enrollment values ​​range from CLP $ 10,000 to CLP $ 22,000 per person and include the same mentioned in Saturday's registration. As a novelty, there will be an E-BIKE category in the distance of 40k.
For more information and signing up enter www.desafiovinacarmen.cl
WHAT ELSE TO DO
Viña Carmen is located in the Metropolitan Region, 45 minutes from Santiago. Its entrance is through Viña Santa Rita (Camino Padre Hurtado 0695, Alto Jahuel), sister winery of the Santa Rita Estates group, which has a heritage complex declared a Historic Monument, offering a series of wine tourism services and experiences. During the Desafío Viña Carmen weekend, the winery will have special activities for all participants, including an exclusive wine sale.
Hotel Casa Real: The Casa Real boutique hotel is located inside Santa Rita, the summerhouse of the founder of the winery, which was restored and converted into a hotel in the mid-1990s. It is located in the middle of the 40-hectare centennial park designed by the French landscape architect, Guillermo Renner. Its Pompeian style of the late nineteenth century has remained, making this historic monument a unique place in Chile. The Hotel Casa Real has 16 high-style rooms, high-level cuisine, dining rooms, lounges and an excellent service; all of this, immersed in an environment of absolute privacy and exclusivity.
Bookings: recepcionhotel@santarita.cl
Restaurant Doña Paula: The house is part of the Historic Monument and has a colonial style, with white walls that hang pictures of the Cuzco schools of Quito and Potosí, high ceilings with bamboo sky, with exposed beams and various objects of the time. All this, in a green environment overlooking the vineyards and a large corridor that overlooks the interior garden. It offers a menu of very high gastronomic level, which includes Chilean and international dishes, which can be paired with the best wines of the winery.
Bookings: restaurant@santarita.cl
Museo Andino: Modern construction of 1,500 m2 that houses the collection of 3,000 archaeological and ethnographic pieces of pre-Columbian inhabitants of Andean territory. These were collected by businessman Ricardo Claro and María Luisa Vial de Claro, who, in 2006, made them available to the community through the Claro Vial Foundation, making it one of the most important private collections in Chile open to the public. Free entrance.
Café La Panadería:  The old Bakery of the Santa Rita Estate prepared bread to the workers and their families. Today, rescuing this typical custom, among the old ovens and kneaders, is the Café la Panadería of Santa Rita. An ideal place to make a pause, whether it be a coffee bean, a natural juice or food, to continue enjoying the day at Santa Rita.
Picnic at Santa Rita: Enjoy the Maipo Valley, with the gourmet picnic of Santa Rita. With a basket, blanket and lounge chairs, live a different experience, ideal for families and groups of friends looking to be in touch with nature in a unique environment. Includes cheese and sausage tables, selection of nuts, breads and cocktail cookies, natural chips, gourmet sandwich, water, fruit, dessert and Medalla Real wines. Phone: (+56 2) 2 362 2520
Wine Shop: Here visitors can find a wide variety of renowned Chilean and Argentine wines and sparkling wines. All ranges and varieties of Santa Rita, Carmen, Terra Andina and Doña Paula brands. In addition, you will find unique products derived from our wine pomace such as the Spa line, specialized accessories for wine service, attractive gourmet products and a selection of handicrafts made by the Alto Jahuel community.