CARMEN'S DO RANGE IS PRAISED IN JAMES SUCKLING'S CHILE REPORT
15 de April de 2019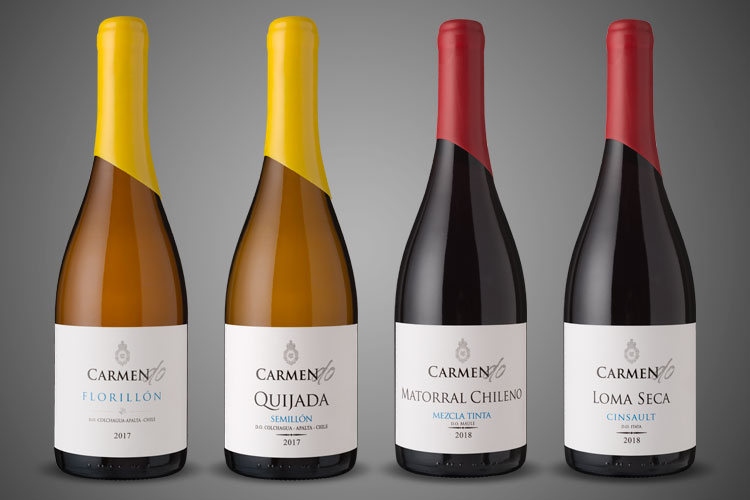 Jack Suckling, Contributing Editor, emphasized Carmen's role in the valorization of traditional grape varieties in Chile, highlighting Emily Faulconer's work.
Santiago, April 2019.- "She's a woman on a mission to bring the forgotten grape types of Chile to a wider audience", comments Jack Suckling regarding Emily Faulconer, Winemaker at Viña Carmen. "Carmen's exciting micro-project DO allows overlooked varieties in Chile to take center stage", he adds. The editor visited Carmen for an exclusive tasting, reviewing Carmen's ultra premium portfolio, as well as producer's project Carmen DO. "What is certain though, is that there is a concerted movement to differentiate and highlight all the various microclimates, varieties and soils that exist up and down the country", reads the Report.
"One of the wines of her experimental range is a fantastic, floral blend of carignan, garnacha and país (Chile's historic red grape, brought by Spanish missionaries) from a grower in Maule" Suckling comments on the Carmen DO Matorral Chileno Mezcla Tinta 2018, awarding 95 points, the highest obtained by Carmen's wines in the Chile Report. "Lovely lavender, violets, heather, hyacinth and nutmeg make for an exhuberant yet reductive and expressive, floral nose. Very tangy and bright on the palate with punchy acidity, yet the core of tannins and berries is ripe and juicy. A blend of carignan, garnacha and país. Structured on the finish. Drink in 2024", reads his review.
"The other is a delicate and expressive old-vine semillon from Colchagua that, can you believe it, used to go into bulk wine", Suckling says about Carmen DO Quijada Semillón 2017. The wine was awarded 94 points, "A very floral semillon that shows honeysuckle, beeswax, cloves and cantaloupe melon. Tangy and textured at the same time with a lovely core of layered, nutty fruit. Creamy and spicy. Drink now".
Carmen DO Loma Seca Cinsault 2018 also obtained 94 points, revealing "blood oranges, dried sage and tea leaves, schist, quartz and bark. Light to medium body with lovely complexity on the palate, in the form of herbal and earthy undertones. Yet, so fresh and delicate at the same time. Drink now".
Carmen DO Florillón 2017 received 93 points, "This is a "natural wine" that shows lots of musty notes on the nose at first, as well as dried egg yolk, but it opens with air to reveal notes of lemon curd, dried apple rind and dried orange blossom. Full-bodied and very oily and waxy on the palate, but with sharp acidity that pierces through layers of preserved lemons and peach pit. Long on the finish and very nutty, laden with caramel character. No sulfites on the flor for six months. Pure Semillon. You will either love or hate this. Drink now", Suckling comments.
On discussing the country´s "renaissance to prove that Chile is more than just cabernet and carmenere", Faulconer's vision for the DO line expresses in the report: "I think these wines are highly relevant and important to our culture. They represent what happened historically to us. Forget about them for commercial reasons, as that will be negative. The added value for wine is the place, the culture and the tradition.  Diversity in a country is something that makes a country interesting and fun. We can't all be doing the same thing. I understand how difficult it is for these small vineyards and growers to exist. So that's where wineries such as Carmen come in."