CARMEN EARNS SIX MEDALS AT THE IWSC 2019
8 de October de 2019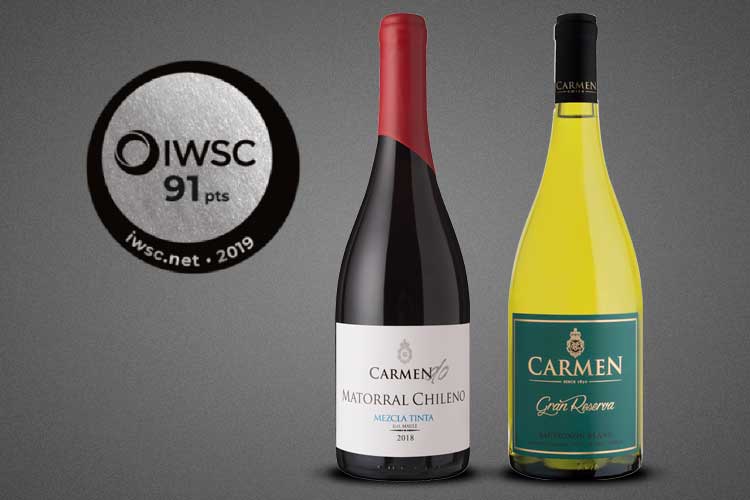 Two silvers and four bronze were the final medal count for Chile's first winery.
September 2019.- The International Wine & Spirit Competition, which celebrates its 50th anniversary on this edition, awarded six medals to Carmen. Carmen DO, the winery's award-winning range of small producers project, achieved Silver with 91 points for its Carmen DO Matorral Chileno 2018. "This wine has a fruit-driven nose, with earthy notes and spices. Soft and round on the palate, it has a lovely rich texture and nice balance between the luscious dark fruit and savoury spice elements. There's raspberry coulis and some balsamic notes on the long and appetising finish", reads the review.
Carmen Gran Reserva Sauvignon Blanc 2018 was also awarded a Silver medal with 90 points, highlighting its "Intense aromas of tarte au citron mingle with lime zest and passion fruit. The intense palate of citrus fruit and minerality is powerful, layered and long".
In addition, Carmen DO Loma Seca Cinsault 2018 and Carmen DO Quijada Semillón 2017 received Bronze Medals, while Carmen Gran Reserva Carmenere 2017 and Carmen Gran Reserva Carignan 2018 also obtained Bronze.
The aim of the IWSC is to award excellence in international wines and spirits worldwide, encouraging recognition for quality products, with over 400 global experts judging the awards for seven months of the year.